Scout Programmes
The Rookie VC #7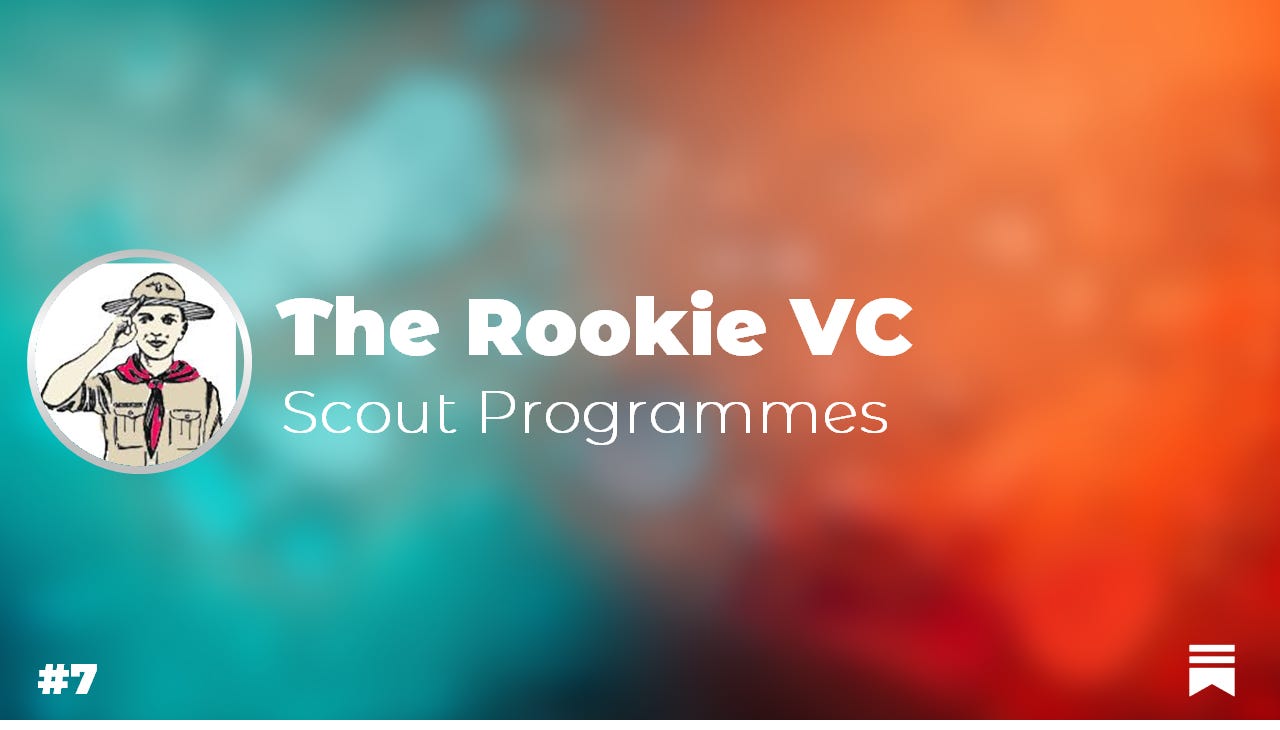 Hi all ! 
Today I want to talk about venture scouts and their role in tech ecosystems. A recent column by Roxane Varza in Sifted about the lack of VC-backed scout programmes in Europe inspired me to dig into the topic. 
I find the topic particularly interesting in the context of angel investing, especially in the European ecosystem where operators and other personalities with strong views and thesis do not always get a chance at angel investing, for various reasons that we'll brush upon. 
I understand my take my sound a little naive or simplistic, and I'm honestly writing this in hope that someone could explain any hard barriers that I might've missed to the development of venture scout programmes in Europe and in France more specifically.
Let's dive right in. 

First, let's explore what being a scout can mean. There is a variety of possibilities when it comes to organizing a scouting activity when you are a VC fund. 
While I think scouting is a great way to approach angel investing differently, it's important to understand that not all scouts are angel investors, and that not all of them will get to participate in the deals they might have sourced. 
A lot of US-based commentators define scouting as VC funds empowering an individual to invest very early in a company with a small allocation over which he or she has full decision-making autonomy. While this is the dominant occurrence, I've observed a nuance. 
I've tried to simplify the framework around a straightforward divide, but we'll see that it branches out in other interesting variants: 
Internal scouts. Some funds have chosen to internalize scouting as part of their platform and dealflow strategy. This type of scout will get to work as a full-time team member inside a fund, and will lead dealflow generation by focusing quasi-exclusively on seizing every occasion to link to the ecosystem and meet as much entrepreneurs as possible, often times at a stage so early that a vanilla VC investment will simply not be on the table. What can really help in this approach is to recruit a network-driven entrepreneur or ex-entrepreneur that is recognized as a strong figure in the local ecosystem. This type of scouts should, in my opinion, also be characterized by a strong sense of serendipity: when he or she detects an opportunity and knows early on will not be a fit, he or she will do its best to redirect to other investors he or she knows will be a better fit. 

Caveat: that is also something any great VC would do, but an approach that should be systematized for internal scouts. I also acknowledge this is a rarer breed, and that interns often fill this role in funds. 
External scouts. External scouts are people under a fund-led program, to which the fund carves out a small allocation (usually $100k-500k) but which are not full-time employees. In the vast majority of cases, they are either entrepreneurs or known angels selected upon application. Some funds also encourage later-stage portfolio founders to engage in scout programmes as a side project, giving them an opportunity to kickstart their angel investing career. Some might have already started to do it sporadically, and in this case it's a great opportunity to leapfrog and intensify it. As I described, the external scout model has some interesting variants that I'll discuss further down the road. External scouts are usually compensated by a portion of the carried interest (proceeds going to the general partners managing the fund upon an exit) to align incentives with the funds. 

It's fair to be reading thus far and thinking :
"Yeah Ulysse, this is cool and all, but top-decile funds don't need these programs because of their network that brings them top-quality dealflow". 
This is exactly the point. To better understand this, let's look at what happened in the US. Top US funds by the likes of Accel, Sequoia, LightSpeed, a16z, etc., have ballooned in size. From the first few original vintages in the $200m to $400m range, most of them now count AuM in billions. 
When fund sizes multiply 10x in the higher end of the spectrum, it has consequences on the economics and how the general partners should allocate their time to make the most of it. Intuitively, it doesn't make sense for a billion-dollar general partner to be cutting a handful of $25-100k checks. To effectively allocate the time used for each investment and ensure the fund is deployed at the right pace, they will need to write $10-15m checks at leas with high conviction levels.
This logic creates a gap. At pre-seed and seed stage, even with the crazy round sizes and valuation you often observe (cue the heated debate about a16z and others funding Clubhouse for instance), founders don't always need, let alone want that much funding to begin with. At $10-15m in median check size, Series A, B and further deals move the needle for megafunds. This means they had to come up with a way to spot and fund excellent deals in advance with fewer strings attached: enter scouts. 
While keeping up with the grassroots level is absolutely key for the bigger funds, I wanted to highlight a couple other reasons why I think scouts can be useful : 
Founder attention and trust. This depends on the balance of power between investors and founders. As many of you may know, it's heavily skewed towards founders in the US because the ecosystem is awash with capital. Direct consequence: founders are aware of their bargaining power and use it to demand better operational experience and empathy from VCs who compete to offer just that and draw attention on them (caution : side effects may include not-so-subtle Twitter marketing stunts and memes). Scout programs have a two unique edges if well designed: (i) empathy from founders to founders or operators to founders, with the intentional end-goal to form a community that no general or ecosystem builder can rival on its own (ii) greater diversity in people founders will interface with (although there has been controversies of funds using diversity scouts as PR stunt, especially in today's context) 

Operator experience. It seems that today, and at least in France, we believe in the venture partner or operating partner model. Some VCs also have an external network they activate as needed. But we haven't tried to incentivize the operators that consistently add value via scouting programmes. Here's an example of why it makes sense to : let's say you're a partner at a fund, and you would desperately love to see more companies with top notch product vision. You regularly call a friend of yours that's a CPO to share ideas, trends and dealflow. You know for a fact that friend is the best product executive there is, yet he's not in a position to put his own money to work and chase deals in his spare time - If he's in Europe, this makes sense for obvious salary reasons. Why haven't we empowered these operators to source pre-seed opportunities, deploy capital and help founders with their knowledge and execution expertise ? 

Honing the next generation of investors. A repeated criticism voiced by experienced investors is that handing checkbooks to novice angels via scout programs can hurt the scout's prospective career in case he or she makes bad investments. Let's take the opposite stance. What if breeding young operator or founder scout cohorts could be a great way to cultivate a strong investment community, and ensure that the next generation of investors is even better than the current one ? In the US, prospective VCs are judged by their past investments as scouts for other funds and as angels. Empowering founders to invest with fund-led programmes shows that VCs are ready to go the extra mile in creating a virtuous, mature tech ecosystem. 

I wanted to come back to the US, and quickly talk about the precursors and the original initiatives that intrigued me. 
The precursors. 

Sequoia Capital started their first program in 2009, leveraging their already large and sprawling network of billion dollar founders and other strong personalities in SV. They pioneered the idea, but got their fair share of criticism for the secretive nature of the programme and the lack of diversity it could imply. It was indeed often touted as a boy club. Another controversy is how Jason Calacanis, the famous angel investor, maintained a grey zone about where his initial $25k to bet on Uber came from, to later concede it was funded by Sequoia through a scout program, after the publication of his best-seller book on how to angel invest. 

First Round. First Round Capital introduced its student scout program called the Dorm Room Fund, which took a different, probably less culty approach to scouting by focusing on students across US universities. The basic concept is that the student fellows would cut $20k checks to monetize their advice given to student-run startups and help them grow. Many of them went on to found top tech companies or join top VCs (Adam Golberg at Lightspeed Ventures, Shubham Goel at Affinity, Udit Jain at Snackpass, etc.)

Newer initiatives 

Spearhead. Spearhead is the brainchild of Angellist founder Naval Ravikant and Accomplice's Jeff Fagnan. The model is particularly unique : instead of forming a cohort of scouts operating with a VC fund's cash, it empowers them to form their own micro-funds with up to $1m of investable capital, and they are free to raise more from additional LPs of their choice. It's primarily targeted at promising founders, which Spearhead helps in setting up the legal entity and get the appropriate education and network to start investing out of their own fund. Instead of considering scouts as cheap labor for VC funds, their approach aims at helping them independently build a fully-fledged micro-VC. The first cohort, debuted in 2018 and consisted of 19 founders, was a success and made 50+ investments in the first year alone. 

Village Global. Village Global takes an innovative approach at building a super high-end scout programme, in which top execs the likes of Jeff Bezos, Bill Gates, Eric Schmidt, Reid Hoffman, Bob Iger. Along with investment from these people comes an action-packed 90 day acceleration programme and lifetime access to the global network Village Global has built with its "network leaders" which includes top execs from YouTube, Dropbox, Flexport, ZenDesk amongst others. The standard terms for investment are a $150k SAFE note (read : BSA Air for my French people out here) in exchange for 7%.

Atomico's founding move 
As Roxanne argued in her Sifted column weeks ago, Europe is clearly lagging behind in this approach to angel investing. She has been partaking in Europe's first scout programme led by Atomico, which was introduced in late 2018. Atomico launched this program in a fairly standard format, empowering a diverse group of 12 tech executives to invest $100k of Atomico's cash in at least two startups in one year.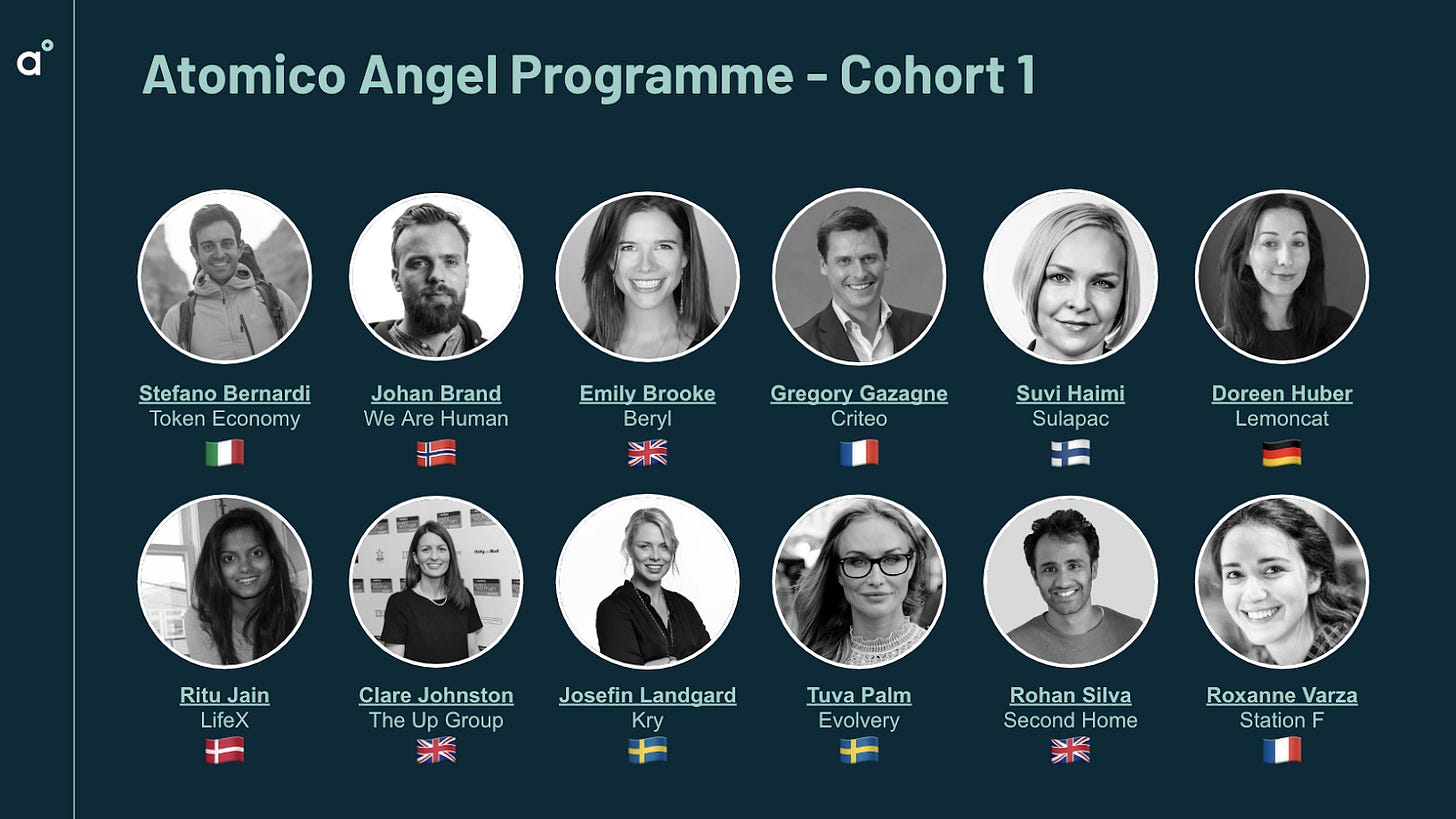 The second cohort was launched and featured another two French angels in the making : 
Cedric Giorgi of Kaduceo (AI healthtech company) who will be focusing on deep tech investments with particular criteria of geography (preferably Toulouse), gender (preferably at least one female founder) and ethnicity (preferably at least one diversity founder)

Maud Pasturaud of Bumble, who will be focusing on women health, senior care and sustainability investments for her tenure as a member 
What future lies ahead ? 
Before giving a few conclusive thoughts on what we could build in Europe, I wanted to stop at the reasons our European track-record in scout programs remains so desperately empty. 
Let me add and reformulate on Roxane's very interesting takes: 
Many funds in the main hubs (Paris, London) define themselves as pan-European as to not be restricted to only one geography when deploying large amounts of capital. But investment teams often remain concentrated in the initial city. Scout programs are in this case a great idea, because they would be an ideal way to empower individuals across the continent that are local references. Roxane exemplifies this, given the recognition and uniqueness of Station F, which she leads since inception. 

The uptick in European VC financing is fairly recent and was concentrated in London. So far, only UK-based fund crossed the rubicon : Atomico, Backed VC, Blossom Capital and Ada Ventures. Specifically for the French ecosystem, it feels very contradictory to me that we push a strong narrative of Paris having all the means to become a mature, virtuous ecosystem, yet no French VC has launched such a program. Atomico certainly enjoys a bigger AuM than the average French VC, but why should it prevent us from launching a smaller initiative ? Baby steps, but I'm confident we can get there. 
I guess the next and final question is: what kind of scout programmes can we build, drawing from the example the US and the UK has set for us ? 
Student-led scout programmes. French business and engineering schools are frequently lauded to be amongst the best in the world, and are starting to densify their infrastructure to facilitate entrepreneurship amongst their ranks. On the other hand, students flock to VC because they perceive it to be an intellectually stimulating and impactful career path. Of course, giving inexperienced students checkbooks to cut angel checks might be scary at first, which is why it could be experimented by the biggest funds, or by a single-LP fund with more ample allocation freedom. 

Founder-led programmes. There is a generation of repeat, resilient entrepreneurs going onto their 2nd or 3rd large-scale venture, which could be a great asset utilized by local and/or international funds to attract dealflow and solidify brand around "mascots". Of course, it would be naive to think VCs don't already share dealflow with founders they know and trust and vice-versa, but the model needs to be industrialized and the thesis voiced strongly ! 

Thematic programmes. Investing via scout programs is essentially a way to monetize an operator or a founder's expertise in a particular field by getting carry on successful pre-seed deals made with a fund's cash. We could imagine thematic programmes oriented towards product, growth, tech, etc. This could open angel investing careers to many operators whose salaries do not permit to invest meaningful tickets otherwise ! 
I'm very very curious to hear your thoughts and debate about this, and hope you liked this issue. Don't forget to subscribe and share if you liked it. 
---
Ressource list :