Digital Mindfulness
The Rookie VC #15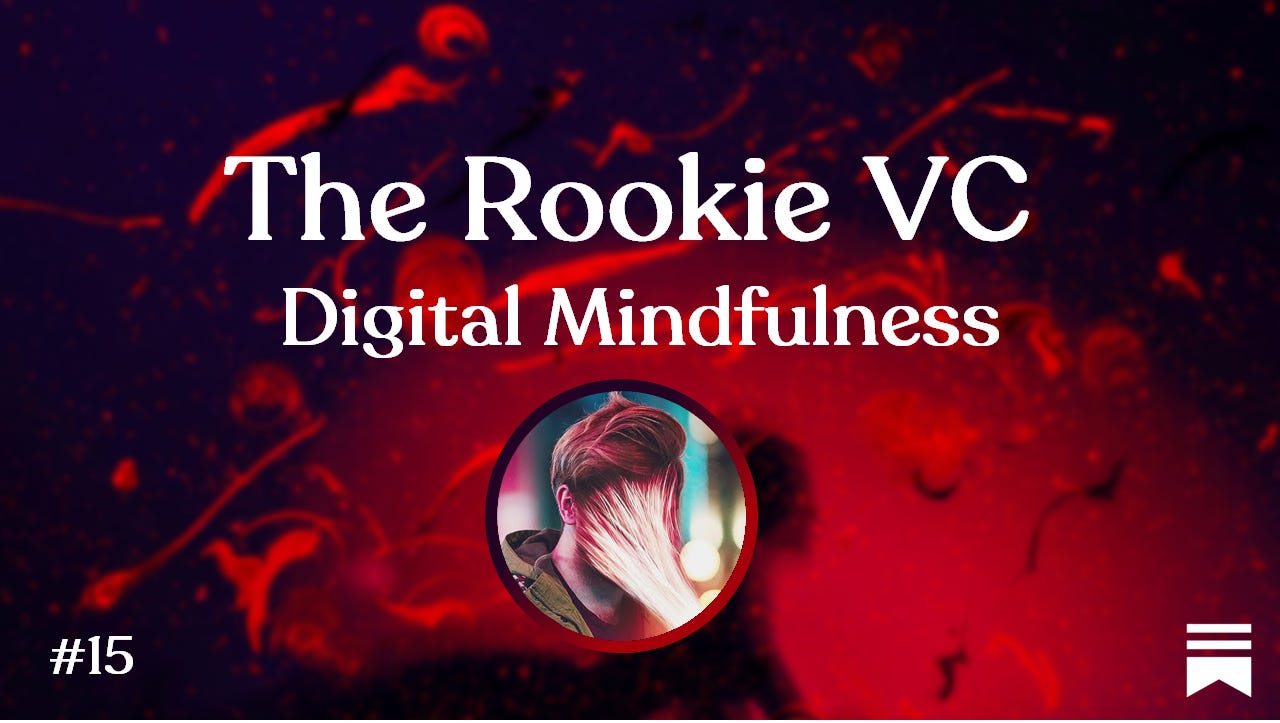 ---
Hi all, welcome to another issue of The Rookie VC ! 
This week I wanted to give you my thoughts on digital mindfulness. 
Vacation time has meant facing a lot of critics from friends and family about being hooked to scrolling Twitter, LinkedIn and various newsletter in inappropriate moments, which led me to a realization many of us had at this point: "Damn, I need to be more in control of my screen time" swiftly followed by "Uhm okay, but how exactly will I do that ?" 
Along the way, I spotted what I think could be an important player in the wave of consumer apps that will carry the ideal of digital mindfulness to turn it into a profitable business: Opal. 
---

Before I dive into the meaning and the origins of this concept, I thought it would be interesting to try and differentiate between "plain vanilla" mindfulness and digital mindfulness. 
Mindfulness is the basic human ability to be fully present, aware of where we are and what we're doing, and not overly reactive or overwhelmed by what's going on around us. 
Mindfulness was of the pillars of the Buddhist religion. 2,500 years ago, in a time where distractions were *significantly* scarcer than today, the ground principles and guidelines of mindfulness were introduced in a book called Satipatthana Sutta, which is very much one of the most regarded playbooks for meditation as of today. 
This concept has been popularized to the public by the recent come-back of mindfulness meditation, a particular method and philosophy for meditating focused on establishing enough focus to be able to distinguish the inner flow of thoughts, emotions, and bodily sensations without judging them as good or bad. 
In my view, mindfulness is a quality that every human being already possesses, it's not something you have to conjure up, you just have to learn how to access it. 
This brings us to our corollary of interest: in our interactions with the digital world, part of our mindfulness is degraded by a handful of apps and services, but it still is an inner quality that anybody can train to work for them.  
Digital mindfulness is applying the tenets and methods of that philosophy to technology uses. It involves developing a structure in your daily routine of smartphone and computer use habits, to narrow down the scope to value-additive interactions only, while cutting out digital distractions and interruptions as much as possible. 
Now that I've attempted to define the general concept, I want to come back to the roots of it and see how it is very revealing of a Silicon Valley wave of repentance for some of the things birthed there, and how quickly this reasoning finds its limits. That even prompted some people to say that Silicon Valley can't fix itself and is doomed to be in a perpetual crisis of meaning. 

I believe that mindfulness itself the concept of digital mindfulness partly roots in the emergence of the "Time Well Spent" Movement. The story began when Tristan Harris, then charged with assessing the ethics of product design at Google, started to notice the large-scale negative effects of the attention economy. He gave what initially was an internal presentation called "A Call to Minimize Distraction & Respect Users' Attention", then extended publicly his discourse in a TED talk. 
The Time Well Spent movement started as an insider mutiny in the world of Big Tech. It then grew into a movement which sparked a non-profit founded in 2018 and called The Center for Humane Tech, who now advises major tech platforms such as Salesforce, Capgemini, etc and garnering the support of Facebook co-founder Chris Hugues, Pinterest co-founder Evan Sharp, Youtube's First Product Designer Hong Qu, and many other tech hotshots. 
Since then, major tech companies have awakened to embrace digital mindfulness in an attempt to show redemption to the public, from which it has recently garnered a significant amount of defiance. Through new dashboards in Android, and a series of features like an app timer, a "shush" mode that switches off notifications when a phone is facedown, an automatic "wind down" grayscale mode.
Then it was Facebook who tried to embrace ethics in design by editing the algorithms to favor friend content rather than branded and media content in the Facebook feed. This came, quite conveniently, amidst the social network's many problems: fake news, Russian interference in the 2016 election, moderation scandals, federal hearings, etc. 
You really can see this in two ways : 
Glass half full - By being the first to step into the pond, Google entices all of the major tech companies to follow suit and FOMO moves the needle on design and product ethics across the board, then trickle down to smaller consumer-facing companies,upheaving the entire industry as a result 

Glass half empty - Desperate for a PR stunt, Big Tech builds marginally important and unfinished features and systems into their apps, who do not break the core loops that allow these companies to pump out data and attention from their users 
Some argue that "Time Well Spent" is a grassroots movement, which I would very much disagree with. Consider the fact that it was started by a high-level employee at one of the most powerful tech firms in the world and quickly been instrumentalized by Larry Page and Sergei Brin who had quickly picked up pace, and you have the perfect recipe for a Palace Coup. 
My view is that altering attention-mongering products from the inside is a lost battle that cash-rich companies can afford to fight, setting the stage for a formidable PR benefit. As far as anybody is concerned, marginally important reform in the interfaces of the big tech platforms did not create that much of a benefit. Take for instance the UI evolution of Facebook across the last 2 years: the interface is more than ever a dumpster fire of features, every one of which is designed to lure you away from the present time. 
For these reasons, I would personally stay wary of the power of manipulation that lays in the hands of Big Tech. In a (very modest) attempt to wrong-foot them, I would like to share a few thoughts on people building for better digital mindfulness and wellness outside of the FAANG landscape and systems. 
I recently came across Opal, a stealth company preparing the beta launch of a "digital mindfulness assistant" to help people take control of their phones and break addiction to various apps by setting intention and time trackers for a conscious use of your classic set of apps. 

Just as a quick disclaimer, these are my upfront hypotheses and thoughts about the business, my two cents about a business idea I love. One good reason I'm writing this is also that I want to cut the private beta line and finally be able to test it out for myself and live with it for some time. 
Not yet another virtual assistant startup: A different approach to product 
As I previously mentioned , I think that the innovation towards digital mindfulness can't come from disparate in-app features or OS improvements. In the users' constant struggle with a handful of apps to reclaim some focused time, third party apps have in my opinion a key role to play in the broader  trend. 
What I think is particularly interesting about Opal is that it is not quite the company you would think it is. Before diving in anything public about them, I used to think that it was just a nudging and measuring assistant that would make a pleasing yet not really defensible product.
In fact, Opal is trying to build a deeper tech layer than just a wholesome UI. They will be using both sides of the table - the user interactions with the early versions of the project and the backend - to try and explain the correlation between our emotions, our amount of screen time and how we navigate it. 
Instead of only thinking in terms of usability, nudging and interface, the Opal team is looking to systematize their reasoning. This is a good way to theorize defensibility and the infamous "business flywheels" early on as opposed to relying solely on front-end user research, which I think not a lot of consumer apps can afford to do.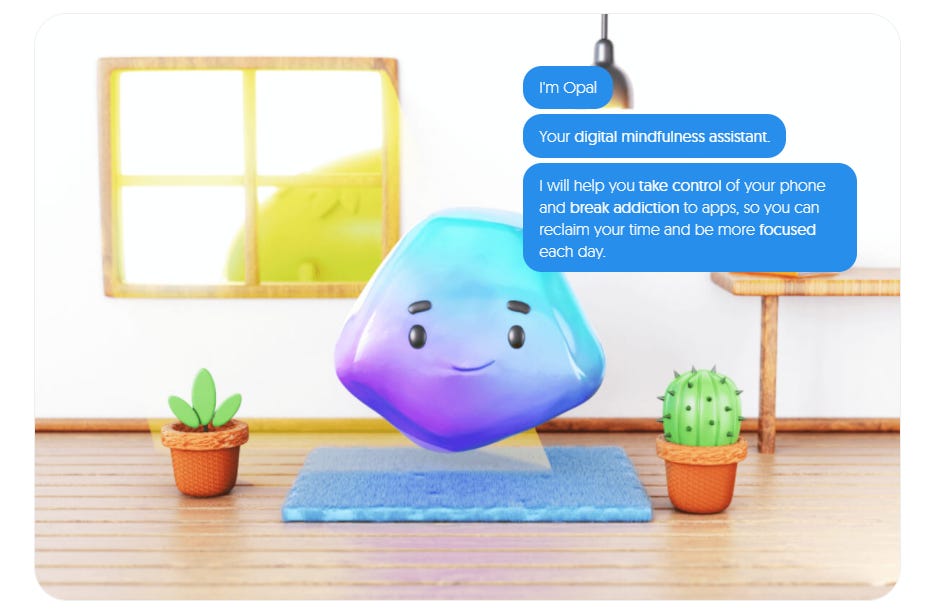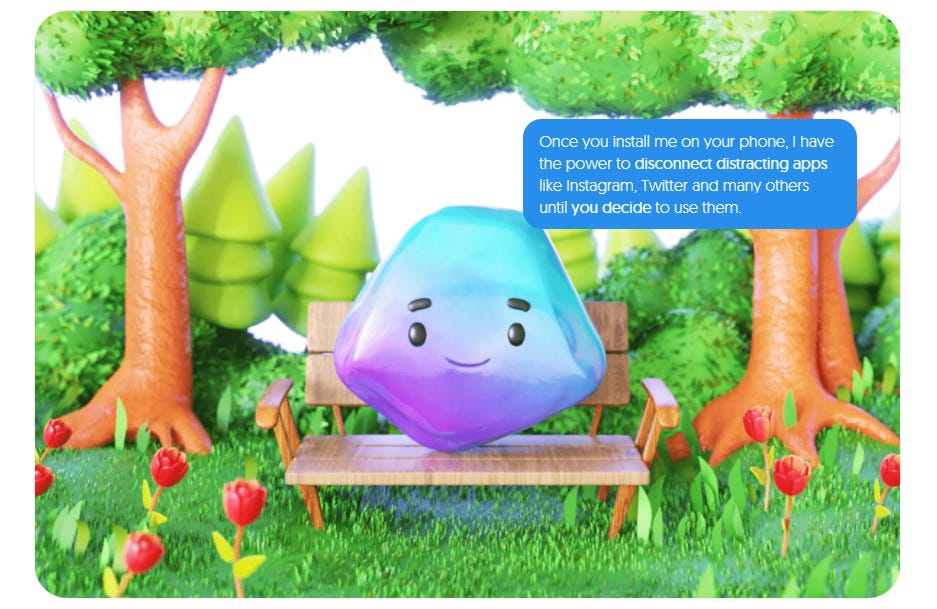 Another very interesting insight that the team has set forth is the use and tracking of intent as opposed to mindless dashboards that we all like not to look at, to avoid the negative realization that our screentime is way overboard. 
While I don't know (and am very curious) as to how this translates in terms of UI, I think this is a really powerful feature to introduce because intent is everything we've been taught to forget at home and at work. The corollary of intent is intensity, which leads to mindfulness: when you've intentionally set out to do something, you're prompted to do it in a limited time, with the right degree of intensity.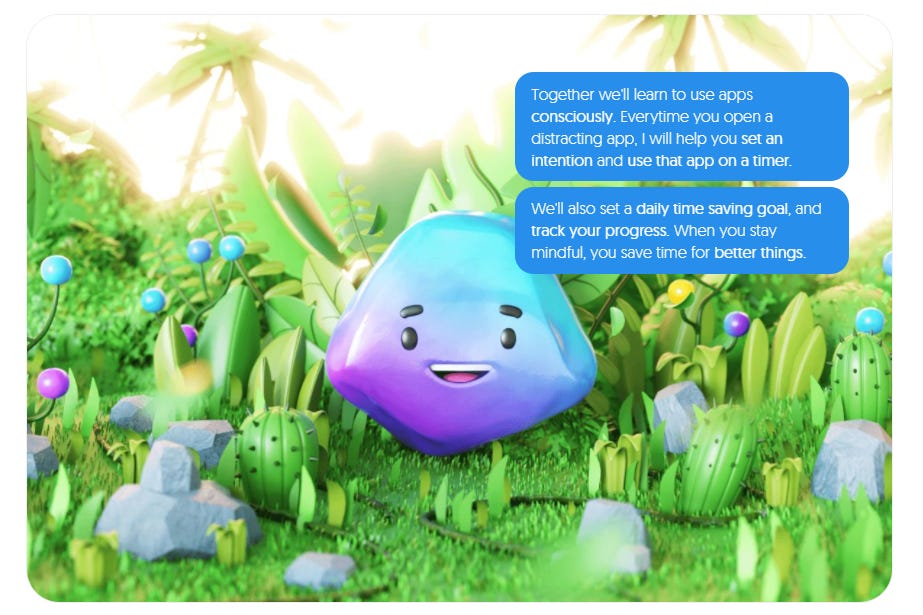 Monetizing digital wellness ? 
When you are building with such a commitment, you need to keep in mind who you are fighting against. Most of the tech giants rely on the attention economy, the value that our brain time has when it is used on Google searches, kitten videos on YouTube, scrolling feeds on Twitter or Facebook. 
Hence, it would be really contradictory to use an ad-based monetization model, as it would entice the team to develop a sticky app that you would end up using a lot. That's why the arbitrage towards in-app subscription is a no brainer for a lot consumer apps right now. The age of the irrelevant ad banner has been in great part killed by Apple's effort to develop subscription revenue from its partners (while incidentally making a hefty, all-margin chunk of their service revenue from commission on subscription services). 
Consumer subscription specialist Nicolas Wittenborn and famous SV investor Balaji Srinivasan said it best : 
Growing peacefully ? 
While Opal can benefit from some word-of-mouth virality and growth, it does not enjoy a very high k factor. This is due to the value proposition itself, which delivers value on the individual level and has few to no social component. 
Contrary to other "precision wellness" apps focused on working out or running like Strava, it's not (yet) a signalling machine. Using the social loop doesn't sound too outlandish here: reducing screen time is beginning to be seen as a high-status marker, just like intensive workout habits.
For this reason, it's likely that Opal's message and acquisition strategy will be focused on inspirational advertising run on social media. Over time, one major messaging challenge is to make it accessible to the masses rather than targeting. 
Paid social campaigns will obviously be one of the driving forces of this business, but I think there's a playbook for branding in the case of companies solving very global and simple problems. Just like Fast used the universality of shitty checkout processes all across the internet to build their product "in public" and create a hype around their launch. 
I would reckon this is a tough strategy to follow, given that any mishappening during launch will be amplified 100x. But in consumer-facing products, it is also a great way to generate free brand notoriety using core tech-savvy communities as a brand laboratory. 
Examples of companies trying to fix very obvious but very broken problems related to the attention span of people and that have used a mix of "Velvet Rope" and "Building In Public" strategies are not uncommon: cue this excellent article by Gaby Goldberg and Jordan Odinksy.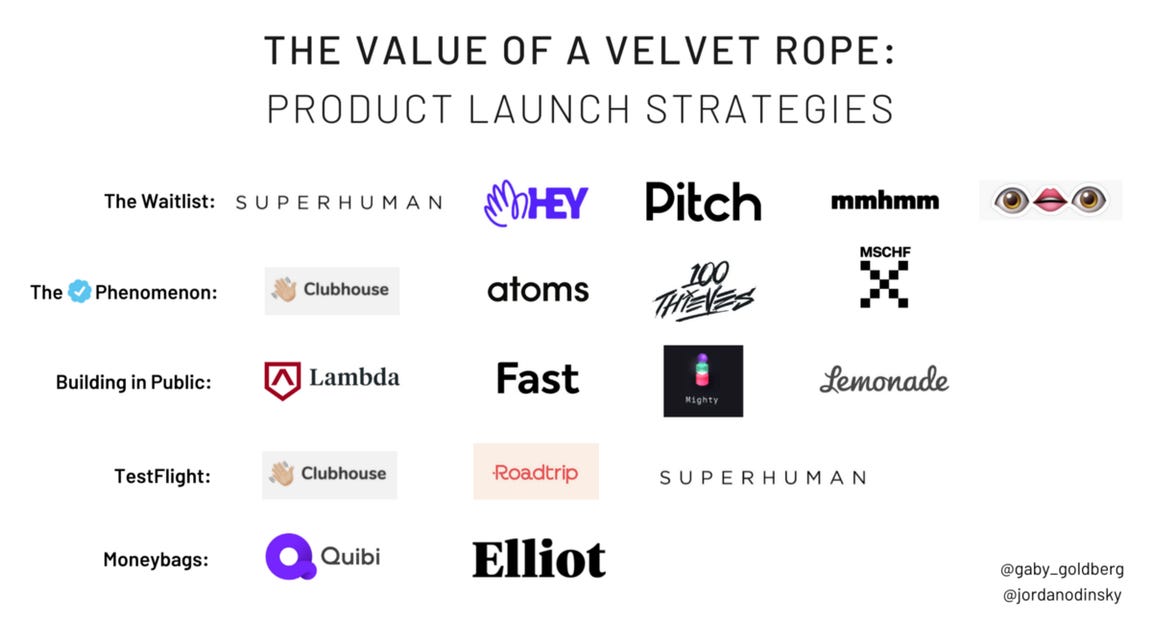 Blurred Lines : A Sizeable Yet Elusive Market 
As an investor, it's very difficult to make an estimate of how big the market for helping people be focused and not get overwhelmed by their smartphone use is. 
The reason for this is the intent we mentioned earlier. It's very easy to track and measure the use of any particular app, a smartphone through the OS, but much more complicated to track the actual intent of users. 
Therefore, any usage or market estimate you make as an investor would be based on an arbitrary percentage of the aggregate number of hours lost by the number of people in any given population group in scope, how much could be converted in monthly subscriptions through Opal, etc. 
However, there is one variable that we know for sure: Opal is a mobile-only assistant for now. According to figures provided by the team at RescueTime (a competitor of Opal), the average user would use their phones 3.15 hours a day, out of which c.50% or so would be social media use. For the top 20%, screen time was 4.5+ hours a day.
The biggest danger in mobile use is that it is a chain reaction : the average screen session is just under two minutes, but is sprayed throughout the day. Hence, once again, the importance of intent.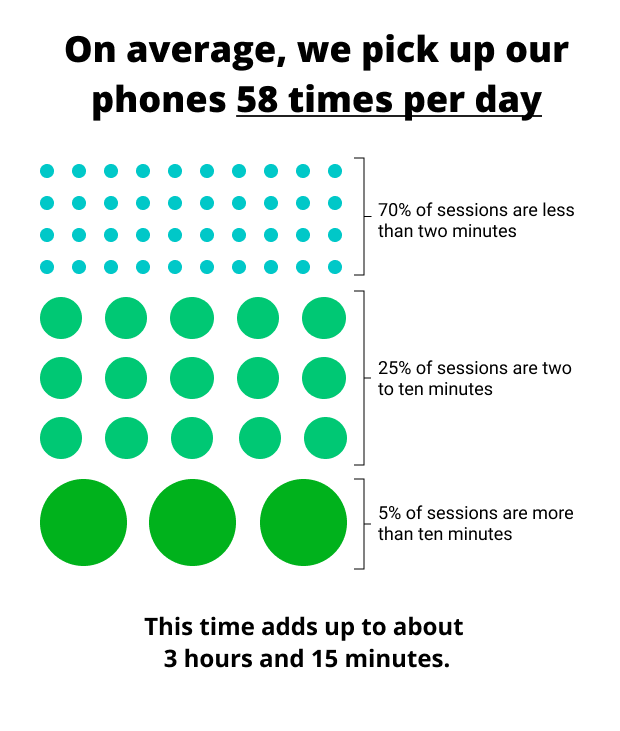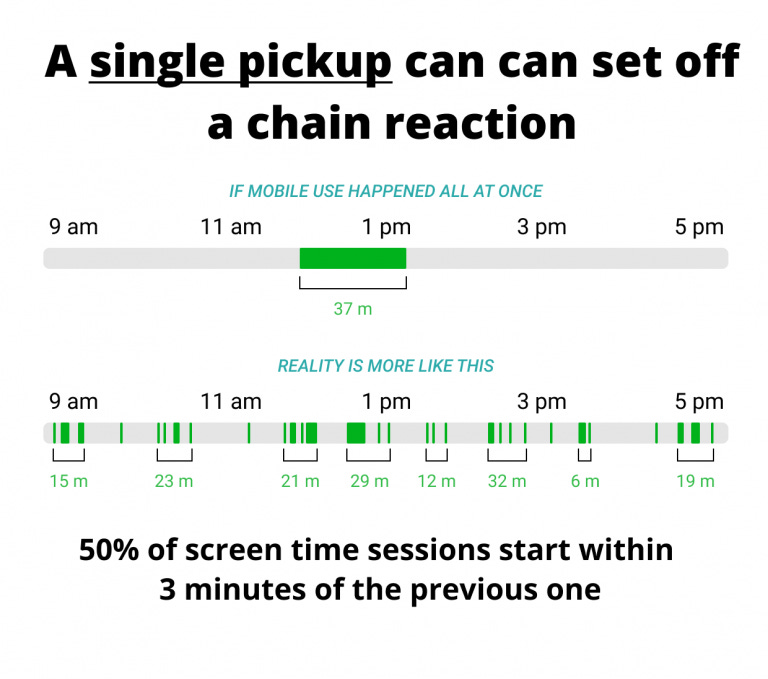 How big could the market in the US and in France be ?
 → The penetration rate for smartphones in the US is c.72%, which per the '19 census would equate 236m smartphone users
→ Conservatively, let's assume our targetable population is only the 20% of heaviest screen time users. That's 47m phones 
→ Assuming a conservative 1% penetration rate, that's 470k phones. If the launch dynamic is to hype a waitlist and justify a $15/mo+ subscription by high-touch onboarding à la Superhuman, then Opal stands to generate $7m MRR or $84m ARR down the line. Depending on acquisition economics, this could prove to be a very lucrative business in their domestic market alone !
Team 
I don't think publishing memos with very straight judgments about a team you have never met is a fair thing, so I'll just stick to the facts stated on the company's Notion-made job board. 
Opal has a small engineering and design team with insider experience of Big Tech and smaller companies, with a strong build capacity : 
I'm happy to provide hyperbolic feedback about the team once Kenneth replies to my many DMs asking for access to the beta 😁 
Competition: The Emergence of A Category ? 
The closest spaces or sub-vertical of mental wellness that I can think of is probably the CCBT (computerized cognitive behaviour therapy) or consumer tool categories as listed by White Star Capital in this very good landscape from Edouard Gaussen at White Star Capital.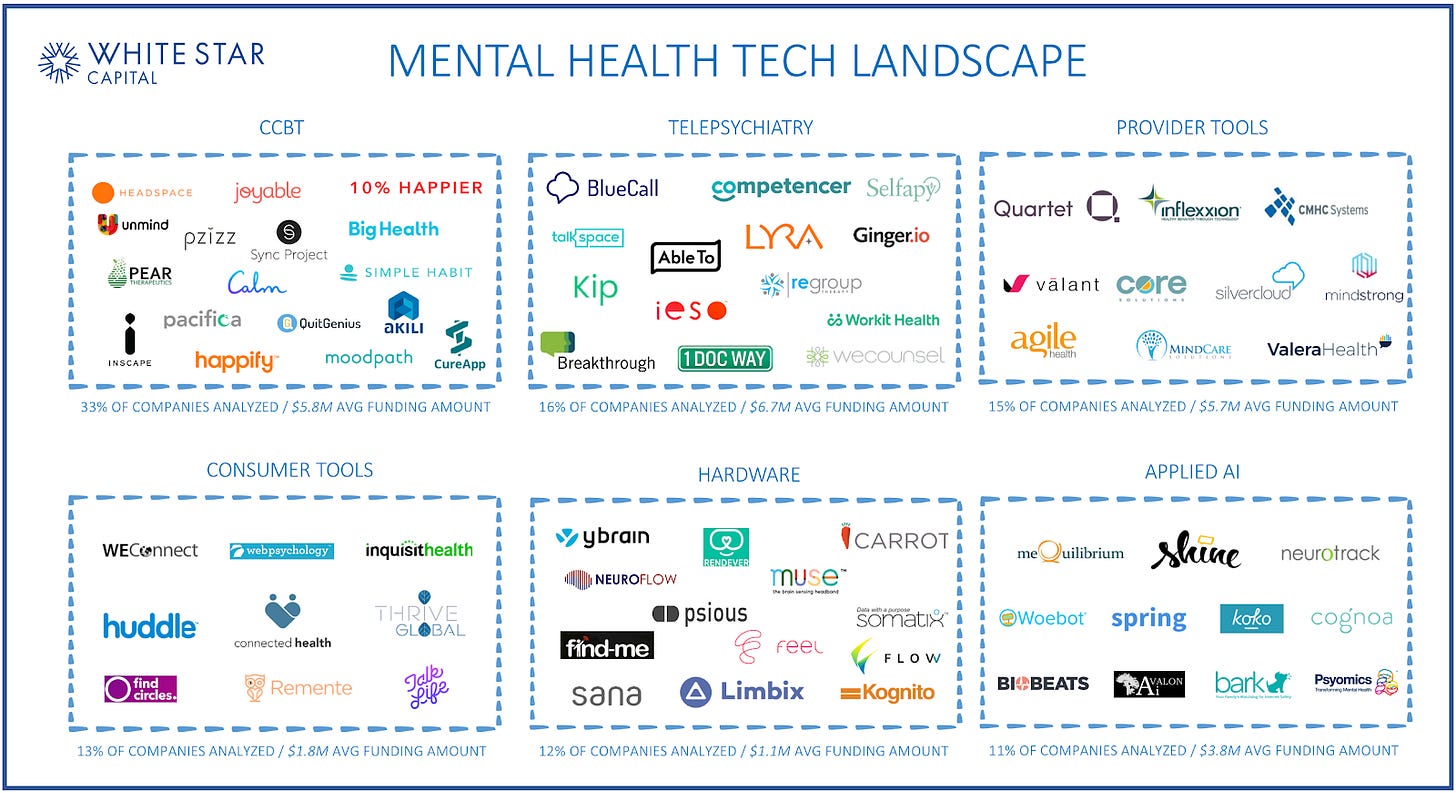 I think that both of the categories encapsulate the idea of self-therapy, which is something Opal is certainly focused on. Now, CCBT is focused on heavier forms of depression and anxiety.
From my empirical experience, I know that I am a very heavy user of my phone and that I spend most of my waking time either on my computer or on calls - For your enjoyment, please see my personal stats from this week below - but I do not feel pathologically depressed or anxious because of those habits. Hence, the importance to differentiate between these two categories.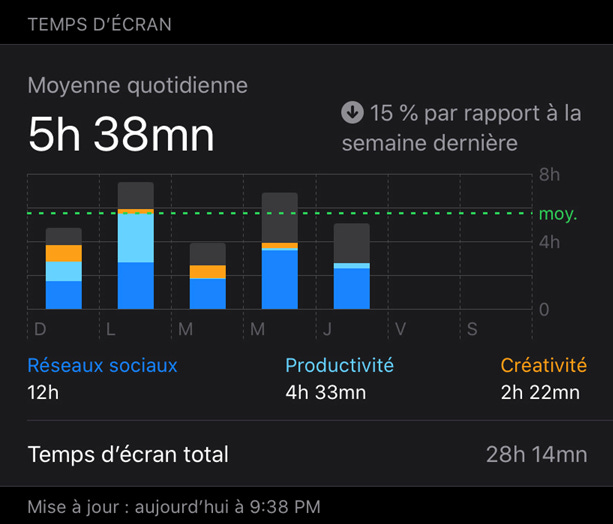 As a consumer brand and from the outset, I would say that Opal is a tool rather than a full-blown therapy interface. With this being said, nothing prevents the team from bringing aboard scientists to start linking the project with CCBT and expand to the broader mental health space, rather than just focusing on mindful smartphone use. 
If apps like Opal are broadly popularized, we could see the emergence of a "Digital Mindfulness" category, i.e. software and platforms dealing with the many problems caused by software and platforms, as opposed to bad real-life issues and habits. While this might seem paradoxical, it's only a sane consequence of our screentime. 
---
I really do hope that this short essay will earn me access to the beta ! 😉 😁
If you liked this issue, please don't hesitate to like, share and subscribe to The Rookie VC. 
Spread the love, and I will see you all next week !
---
Resource list: